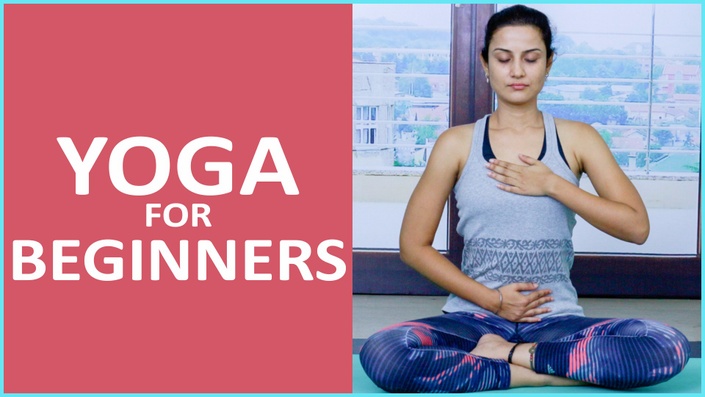 Yoga For Beginners
The Simplest 7-Step Process
For Enhancing Your Strength, Building Your Immunity And Boosting Your Energy… Faster Than You Think!
7 Wonderful Things that'll happen to you on this unique journey
You'll experience a continuous state of delight, you'll find yourself filled with joy and happiness all the time. Goodbye mood swings!
You'll have high energy levels throughout the day, especially on those long stressful days of never ending work.
You'll not just have extraordinary mental strength but exceptional physical fitness levels.
You'll increase your performance and productivity at work and you'll even outperform your peers.
You'll be healthy and fit, and that means you can save up thousands of rupees that usually go towards hospital bills and medicines.
You'll build better and more fulfilling relationships that will ensure peace and satisfaction in your everyday life.
You'll not fall sick easily, you'll be in a much better shape than most people of your age.
This 7 step process designed especially for you will drastically improve your strength, control, and energy. It will transform your life forever, for the better.
Do you get tired easily at work? Do you feel your energy levels dropping from morning to evening? Do you feel overworked and super stressed every other day?
Do feel like escaping it all? Does the idea of returning home to crash in the comfort of your very own bed end up being the only thought that keeps you going through the day?
Do you cringe with jealousy every time you spot someone physically fit racing through the aisles of the supermarket? Do you feel envious looking at people who outperform themselves with extreme energy on those reality TV shows?
We understand how you have been battling through stress and frustration.
We all aspire for a perfectly toned and physically fit body with great level of fitness. And, it is no surprise that you too have been wishing for a simple quick fix solution to get back in shape.
We have developed this 7-step program with you in mind!
This will increase your levels of strength and energy.
This will make you the fittest you possible.
Yoga is a 5000 year old practice that has been changing the course of humanity for thousands of years now.
Yoga is not just about bending or twisting the body and holding the breath. Yoga connects the body, mind, and spirit through different body postures, meditation, and controlled breathing.

Yoga is more relevant today than any other time in human history. Bound to our desks all day long, we probably have forgotten what living means.
Our lifestyle choices including lack of physical activity and poor diet have an adverse affect on our health and even longevity.
As a result, serious illnesses like obesity, diabetes, arthritis and other respiratory issues are plaguing our lives.

And if you do not change your lifestyle and adopt healthy habits now, you are inviting long term health problems. That is why, yoga is more relevant today than any other time in our existence.
The celebrity bandwagon from Hollywood to Bollywood is filled with celebrities who swear by the benefits of yoga for healthy reasons
---

"I do Ashtanga yoga three times a week, and I run a couple of times a week, too. I really like yoga; I enjoy the actual doing of it, so it doesn't feel like the agony of the gym felt like to me."
Julianne Moore
Hollywood Actress and Children's Author

"Yoga completely changed my life. It's one of the most fun workouts I've ever had. So have fun and work hard because it will totally pay off."
Jennifer Aniston
Hollywood Actress and Businesswoman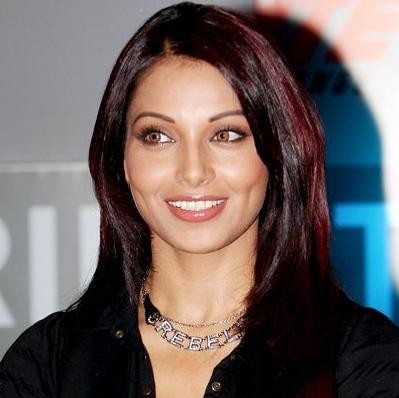 "Yoga takes you into the present moment, the only place where life exists!"
Bipasha Basu
Bollywood Actress and Model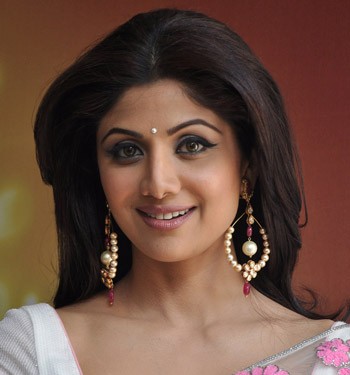 "Yoga did not just help me with my body, I became fitter from within as well. It helped me to focus better."
Shilpa Shetty
Bollywood Actress, Model, and Entrepreneur
Yoga will transform your life for the better. Yoga creates a strong connection between the mind and the body. It not only enhances physical health but significantly improves emotional health. It even enhances the functioning of all the organs and systems in your body.
Yoga is not just complete exercise, but can also the play the role of alternative medicine.
Yoga is proven to improve quality of life by treating depression, mood disorders and other stress related lifestyle diseases.
There have been numerous studies conducted in this domain, and the results have only proved time and again why yoga could be the best alternative to medicine. In fact visit any doctor today, and they will trail off with practice Yoga as complementary therapy to western medication.
Yoga helps to solve a problem, but more importantly it helps prevent it!
Research shows and medical professionals believe that a whole lot of diseases and disorders can be helped with the practice of yoga. The list is endless - any disorder and Yoga has a cure for it, whether it is diabetes, cardiovascular diseases, PCOD, sinusitis, blood pressure, or even infertility.
Yoga has a solution to almost all diseases and disorders. In fact, uncommon diseases like Fibromyalgia, Tinnitus, and varicose veins can also be cured with Yoga.
Did you know that about 5.2 million people in India die every year due to medical errors that could be prevented?
And according to a report published by an Indian doctor from the Harvard School of Public Health, the number is a whopping 43 million across the globe every year.
This is unfortunate especially when the prevention cum cure is at hand. All of this can be prevented through yoga.
When you practice yoga, every cell in your body is touched and healed. The metabolism is regulated, hormones are balanced, mind and body is calmed, the heart rate and blood pressure becomes normal, the parasympathetic nervous system is worked upon.
Yoga enhances the circulation of blood. This means more oxygen and more nutrients all over your body. There is also more effective flush out of toxins.
Enhanced blood circulation helps solve some of the most deadly health problems. Also, when you stretch and create space, your body grows and develops in the best possible way.
The practice of yoga can bring peace and harmony to your life. It will heal your past, however terrible it is. It will give you clarity about the future. And it will help you stay in the present.
"Yoga takes you into the present moment, the only place where life exists."
Think of how beautiful your life would be if you are able to channelise all your energies towards your present! Your life would transform right away!
And when that happens, your health would improve as well.
There are scores of such research studies that highlight how yoga can be the best alternative to medicine. But more importantly there are scores of ways yoga can benefit you.
11 Tremendous Benefits Of Yoga
We all dream of a perfect life, that includes us having the perfect family, a good home, and all our need fulfilled. But we forget that the first thing we should wish for is good health. When health gives way, we become incompetent to accomplish any dreams we have wished for. So basically, healthy living is the basis for that perfect live, and a vehicle to realizing those many dreams.
The purpose of life is - living healthy. Living healthy, and helping others do the same. Because when you are healthy, you can do what you want. Simple. And health does not just mean a well functioning body - but a well functioning mind too.
A mind that is calm and at peace. A mind that is strong and stable. Most of our lifestyles don't allow that. Fast-paced lives with stress brimming all over have made our minds a clutter. We are so busy going after money and fame, that we don't have the time to take care of our health.
But we can't simply quit our jobs and indulge in stress free living all day long, can we? So, what can we do? How can you ensure you are completely fit by spending minimum time exercising?
The answer to all your troubles is Yoga. It doesn't take much time. It can be performed almost anywhere.
Yoga works on your core (spine). It is believed if your core is strong, then most health problems are at bay. A strong core promotes a healthy back and better posture. When your back is weak, you tend to slouch. This compresses the organs, leaving no space for them. A strong, straight core, helps create space for every cell in the body.
Yoga can literally treat any disease and heal every part of your body.
When you fine-tune yourself with yoga everything functions wonderfully within you, you will bring out the best of your abilities.
Whether it is reducing your blood pressure or raising your pain tolerance. Yoga works on you internally and externally to help you achieve the perfect state of health.
Yoga also works on the chemistry of the body, altering the blood cells, the hormones, the glucose levels and more.
When considered as a workout, yoga has benefits that no other form of exercise can offer. These reasons will compel you to take up yoga:
Uplifts your mood and reduces stress. You will rarely have bad mood. It is all uplifting energy that flows through you.Though you might feel a little bad initially, the negative feelings are released and you will feel better again. The feel-good stretches along with controlled breathing also helps you manage your anxiety.
Allows self-acceptance. Yoga brings self-awareness. You will start accepting and loving yourself, which will ultimately build your self-esteem and confidence.
Builds self-control and reduces anger. The controlled movements of the yoga asanas teach how to exercise self-control in all areas of your life. Yoga, with it's breathing and meditation techniques, even calms the nervous system and reduces anger.
Aids in mind-body connection and enhances optimism. Yoga requires you to coordinate your movements with your breath, thereby making your mind calmer. It also stabilizes the many hormones in your nervous system. So with regular practice, you will start looking at life with a fresher perspective.
Improves concentration and memory. You will be less distracted at work. And with improved concentration levels, you will perform better at your job too.Yoga even enhances the blood circulation in the brain, which helps improve memory.
Improves your social skills. Yoga will teach you how every aspect of your life is interconnected. This helps you connect better with other people, and ultimately can improve your social skills.
Helps maintain overall health. Yoga enhances blood circulation. This helps in the better absorption of vitamins and other nutrients in your body. This also has the advantage of benefiting your nervous system, which in turn benefits your overall health.
Improves physical health and lowers the risk of injury. Unlike in a gym, yoga comprises of low-impact and controlled motions that can provide equal benefits. Hence, the risk of injury is very low when compared with other forms of physical exercise. And with the various stretches and poses that open up your body, yoga improves your overall posture.
If weight loss is your primary concern, yoga can help you. Yoga greatly improves your metabolism. In addition, it also helps you build lean muscle. These two factors greatly help you maintain your weight. Also, If you are looking for beautiful glowing skin, or accentuated hair growth, Yoga can help with that too.
Prevents premature aging. Aging is natural. But premature aging is not. Yoga helps flush out free radicals and other toxins, which eventually prevents premature aging.
Yoga balances out the hormones and also regulates the monthly menstrual cycle. Your periods will be regular and you will notice that the discomfort that comes along with it is reduced. If you practice yoga regularly, PMS, Stomach aches, backaches, mood swings will be things of past.
Yoga - How My Journey Began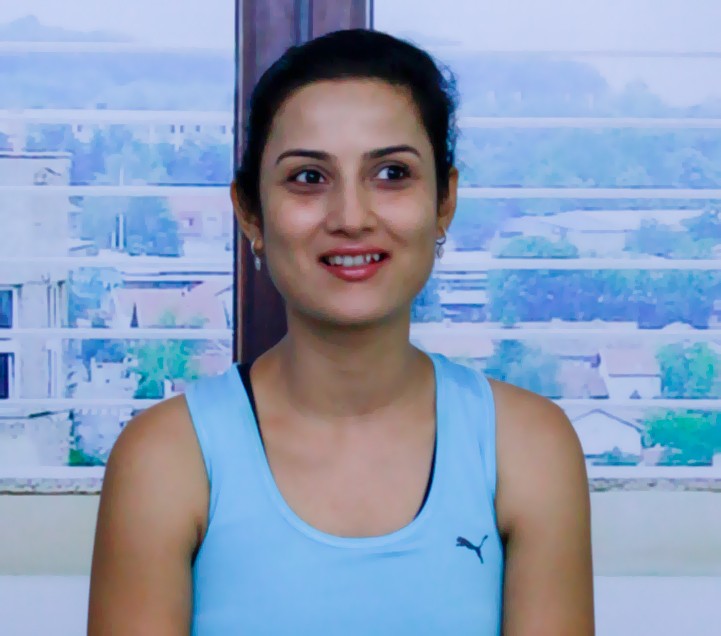 When I started practicing yoga X years ago, it was very difficult in the beginning. Just like many of you, as a beginner I was very inflexible and also lacked strength to complete the full yoga workout in one go.
I struggled a lot to get the posture right. Initially, it seemed hard to do the asanas correctly. I constantly felt that I lack stamina and energy. But gradually I started noticing that each time I did the workout, I felt better.
Even today, a morning yoga workout session means that I feel light, refreshed and energized through the day.
Over the years, as I continue my yoga practice, I feel I have become much healthier and fitter than I ever was. My immunity levels increased tremendously.
I used to have a severe health issue of spondylitis. My back used to hurt and I experienced chest pain every time I took deep breaths. The pain fluctuated from mild to severe, and I had trouble sleeping at night. Medication only offered a temporary solution to this recurring health issue.
That was when I got exposed to yoga. And since then with everyday yoga practice it slowly got rectified.
I have noticed a remarkable difference in my physical body and mental health with regular yoga practice.
My breathing has improved significantly, which not only means that I can breathe to the full capacity of lungs but facilitate easy release of toxins from my body.
Yoga has helped me remove all the energy blocks and overall by quality of life has improved with better health. I live life in the moment and to the fullest potential.
Overtime my confidence levels have increased, and I slowly became better as a person.
Svati Patangay is One Of The Top Yoga Experts On The Internet Today
Svati Patangay has over 10 years of expertise in the field of yoga. In the past one decade she has provided personal yoga training to hundreds of people in India. She is a qualified Power Yoga instructor and a certified Reiki Channel Level 3
~ She is a registered Shiromani under the Sivananda tradition, and am a graduate of the Teachers Training Course at the International Sivananda Yoga Vedanta Centre, Uttarkashi, 2013
~ She is a Prenatal Yoga and Pilates Instructor (which includes STOTT Pilates) and a Certified Yoga Teacher, Kapila Maharishi Research and Resources, 2009.
~ She provided assistance to yoga trainers at the International Sivananda Yoga Vedanta Centre (2010)
You would have seen other yoga courses. You probably would have seen so many of them, and you think this also is one of those. But this is unlike any other yoga course on the internet. Because it has been designed by someone who has years of expertise in the field, keeping you in mind.
Svati Patangay has not only trained under masters from the field of yoga, but has a decade of teaching experience to back her expertise.
She is a yoga specialist who has not only mastered the knowledge of yoga but can modify the practice to suit the need of different individuals.
She has designed this course keeping the beginner in mind. She has not undermined your strength and level of flexibility but knows that with each day, this is how much you will be able to push yourself. Which is why although there are many courses on the internet, this one is truly special.
It is designed keeping YOU in mind. It is made for YOU.
A course that has the time-tested 7-step program, which focuses on all the areas of your body. By following a few simple (and a few advanced) steps, you will trigger each and every area of your body. This results in a complete body workout. This program has already been taken up by hundreds of people, and also by scores of my students. And I am happy to tell you that it has worked for each one of them.
And This Is What A Couple Of My Students Have To Say...
Students Who Found A New Life In Yoga
Prakhya Gadde
Blurb: I would definitely highly recommend Svati as a Yoga instructor.
My experience of learning yoga from Svati, through the course of almost 2 years has not only changed my perception of Yoga but has fully transformed my life. I not only became more flexible and fit over time but I also saw many changes in the way I went through my days. My metabolism has increased, and I have much greater immunity.
The best part about my experience with Svati is that she does not just teach yoga but focusses on overall health and fitness.
Reetika Parmar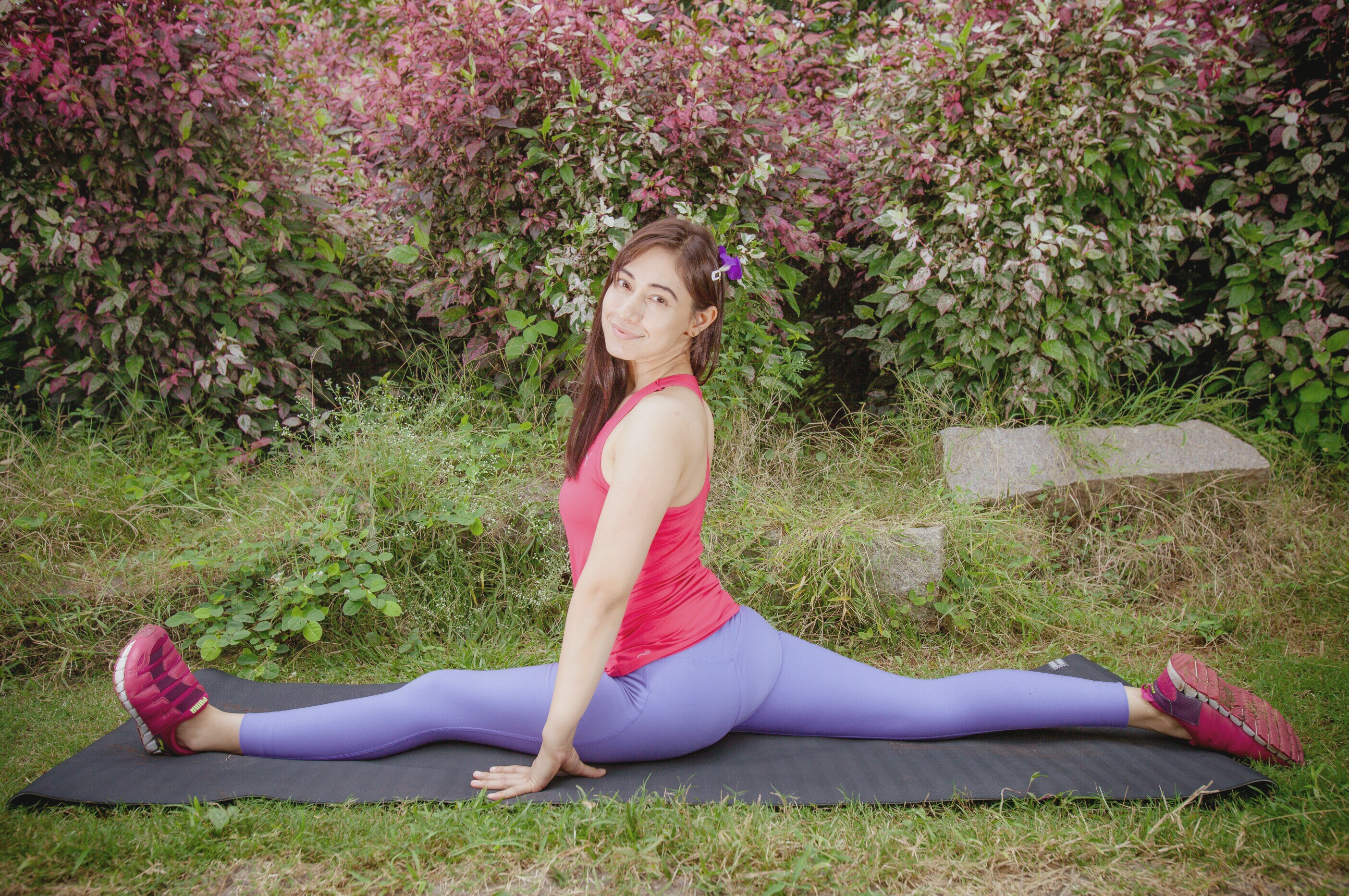 Blurb: Svati is a yogi in true sense of word.
I met Svati during an Acro Yoga workshop. I was trying to guess her age and to me it seemed that she must be a fresh graduate. I was surprised to know later that this fit looking girl was a mother of two.
Apart from being an experienced and refined yoga trainer, Swati is a very balanced person. It is really impressive that she has really taken yoga off the mat and imbibed it into her life and has exemplified the life of a disciplined yoga practice.
I am in awe by her flexibility and strength. It's a pleasure to watch her perform even the advanced and challenging asanas with such ease and grace.
It's utterly inspiring to see her balance her work and personal life. A dedicated soul who is always keen on sharing her knowledge and skills with all those seeking help.
I would recommend Swati based on her extraordinary credentials in the field of Yoga, which includes her learning with one of the best yoga schools in India. Over the years she has worked with people of all age groups and sections of the society, and this shows how generous a teacher she is. Her many years of experience working with people from all age groups and different sections of the society shows how generous a teacher she is.
Svati continues to set remarkable standards for other instructors in her field of work.
The Yoga For Beginners Course Is For Everyone
If you are a beginner, you may face these simple issues:
You might struggle with stretching. And, at times may even lack the strength to perform yoga asanas. This is because your body is not yet ready to perform the asanas.
At times you may feel lost in the yogic practice, if you are not familiar with the pose.
You are making some peculiar mistake while performing a pose.
Your movements are restricted owing to the lack of flexibility.
But do not let all this stress you out. This course is designed to initiate you into the practice of yoga.
Many people start yoga classes on YouTube without having a proper understanding of the subject. But this course is an effort to educate the beginners about the corrective steps they need to take and the breathing techniques they need to master.
If you are a newbie and have little or no knowledge of yoga, this course will open the magical world of healthy living for you. The course will introduce you to the art of pranayama means source of life. So when you breathe correctly you you instill the source of life.
And, If you know yoga but find it difficult to incorporate in your everyday life, this course will provide you quick fix workout solutions that can be completed within minutes.
This yoga course is designed in such a way that there is a step-by-step process from the easy to advanced variation. In addition, the Yoga For Beginners course can help people who are leading sedentary lifestyles. It is specifically designed for beginners' bodies to elevate physical and mental potential in just two weeks.
If you are suffering from Lifestyle Problems like:
Weak digestion
Insomnia
Stress
Tiredness
Aches And Pains
Low metabolism
Weak immunity
Anxiety
Depression
Hormonal Imbalances
Sinusitis
Yoga can help you combat all of these in just two weeks. Your body on the whole, and each system individually will be stimulated, and strengthened.
This two week course will shake you up, and awaken you to the beautiful life that lies ahead of you. It will give you that much needed reality check, to live life to the fullest. Why suffer with these trivial issues, that hamper good living, when with just half an hour every day you can keep them at bay.
You Can't Believe Just About Any Yoga Video On The Internet!
There are literally millions of videos on the internet that claim to teach yoga. According to the statistics shared by YouTube, viewers watched about 5,500 years worth of yoga videos online in the year 2015. It's simply unbelievable!
You may wonder why should you invest in this course when you have the option of simply going through youtube videos…Because it can be potentially harmful to practice yoga without expert guidance.
Carol Garber, a professor of movement science at Columbia University who has undertaken extensive research work on physical activities says, "A lot of what's out there is being done by people with no formal training, and they may not be giving you a workout that's safe."
We all know anybody can put anything on the internet. If you blindly follow the free information readily available to you on Youtube without checking it with any reliable sources, you might end up in trouble. You might end up doing more harm than good to your body even if you practice the yoga asanas.
This Is The Best Yoga Training Course On The Internet!
This course offers many unique benefits that no other course on the internet does. This is something that has come from a decade of research and experience.
Well, now you might ask...
How is this course different from the rest? Why should I take up only this when there are so many others out there?
Yoga For Beginners helps you become a better version of yourself. With its simplicity and effectiveness, it is the most followed yoga training course on the internet. Here are 8 things that makes this course special:
An ancient method to enhance your strength and energy levels in just 15 days. The 7-step program in this course helps you perform the asanas the right way. When you connect your mind, body, and soul, great things start to happen – but with this course knowledge you'll be able to connect all the three entities with the Source, your life takes a wonderful turn.
The pristine knowledge about the variations, adjustments, and corrections: The variations, adjustments, and corrections of the asanas help you ingrain them into your subconscious. When this happens, the program will be highly effective and transform your life in a big way.
Attain inner peace with improved breathing and connect it with your asanas: Yoga For Beginners starts with a warm-up class. This class focuses on making your breathing systematic and rhythmic. In addition, it also connects your asanas with your breathing patterns. This is important because if one doesn't perform yoga the right way, there can be severe complications. These can include the damage of tendons or ligaments, slip discs, muscle pulls, and even vertigo.
Every class is repeated for deeper connection and understanding: Repetition is the best way to better your understanding. The repeat class helps one learn the poses better and perfect them. This can help you enjoy the benefits much faster, and attain the balance and peace of mind in your life that you had been missing.
Become aware of the precautions and disclaimers: The basic purpose of anything you do is to be aware. You must be aware of what you do, otherwise would there be any point doing it? Yoga For Beginners is the only course that has the precautions and disclaimers mentioned at the beginning, and not at the end. Precautions with respect to certain injuries, and also in terms of food and clothing are given right from the start.This helps you to prepare yourself accordingly even before you start the course. Having no knowledge of the precautions can make yoga harmful and do you more bad than good.
The course is for all: It doesn't matter how much you know about yoga - Yoga For Beginners is one of those few courses that train right from the basics. So you will not have to worry if yoga is an entirely new concept for you as the structure is designed to guide you. You will have a great time learning about staying healthy and spreading happiness!
There is constant guidance: If you aren't sure about a yoga pose, the course enlightens you in this aspect too. It also tells if there is a variation that you can perform comfortably. With constant guidance, you will be able to master the art of yoga much better. This helps you embrace peace and joy.
Two weeks is all it takes : The course focuses on improving the flexibility, strength, energy and control in just 15 days. By the time you have finished the course, you will see better levels of strength and energy. You will also be more at peace with yourself and the world around you. Two weeks to form a good habit that will last a lifetime. This means a long, healthy, happy life.
Yoga For Beginners helps you become a better version of yourself. With its simplicity and effectiveness, it is the most followed yoga training
The Time-Tested 7-Step Program

For Connecting Your Mind, Body, And Soul
In Just 15 Days!
There is a reason my course follows this method – It works! Like I already said, this 7-step program works on all the parts of your body. In other words, this program focuses on seven critical areas that cover your entire body, enabling you to breathe, move, and think better.
Here's how -
Step 1: Spine Repair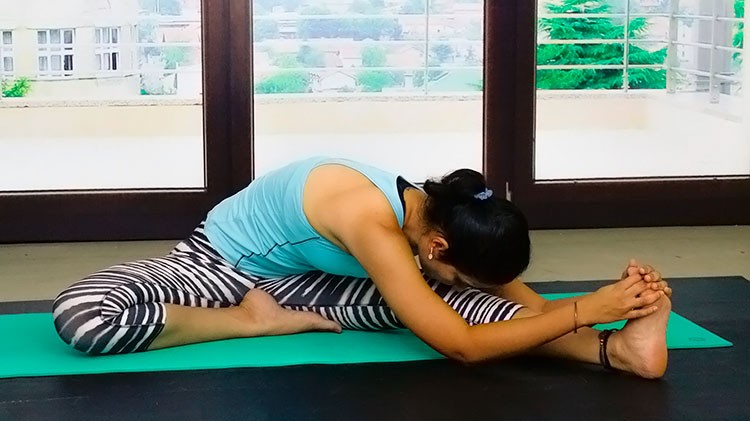 Janusirsasana
Gets rid of the stress that gets accumulated along your spine and relieves tension throughout all your joints. In this step, you simply unwind and heal to rebuild again.What the module contains -
Warm-up exercises
Standing exercises
Sitting asanas
Gomukhasana intro and correction
Janusirsasana intro and correction
Step 2: Enhanced Blood Circulation
Suryanamaskar
Due to bad posture, sitting habits, and lack of physical activity, our blood circulation is heavily impaired, resulting in fatigue and constant muscle strain, headaches, and indigestion. This step restores blood flow to every inch of your body on the outside, and also regulates circulation within your critical inner organs.
What the module contains -
Introduction to Suryanamaskar
Suryanamaskar – breakdown of each of the 12 poses
Corrections

Step 3: Balance And Posture Correction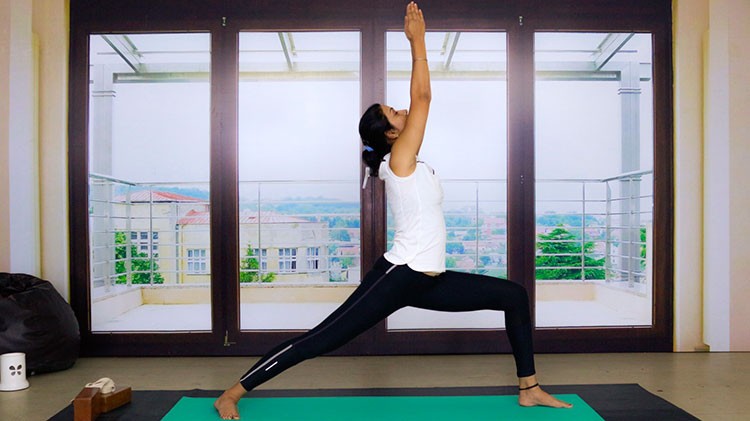 Veerabhadrasana
This step focuses on a combination of breathing techniques and asanas that stretch your body and help correct your posture. You will feel taller with an elongated core and improved agility.
What the module contains -
Suryanamaskar
Standing asanas
Trikonasana 1 intro and correction
Trikonasana 2 intro and correction
Veerabhadrasana 1 intro and correction
Veerabhadrasana 2 intro and correction
Step 4: Anxiety And Stress Relief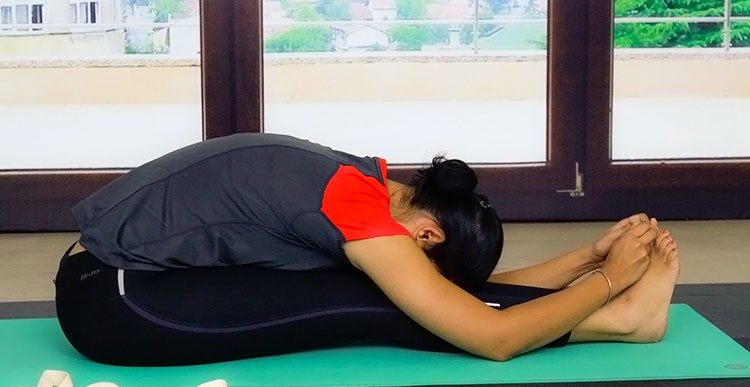 Paschimottanasana
With a focus on improving digestion and relieving a stiff back, you will experience an immediate change in your mood and your mind will become calm.
What the module contains -
Suryanamaskar 5 sets
Standing asana
Parsavakonasana 1 intro and correction
Parsavakonasana 2 intro and correction
Supine asanas
Single leg lifts and variations
Hamstring stretch
Paschimottanasana intro and correction
Recap on the sitting asanas
Step 5: Improved Focus And Balance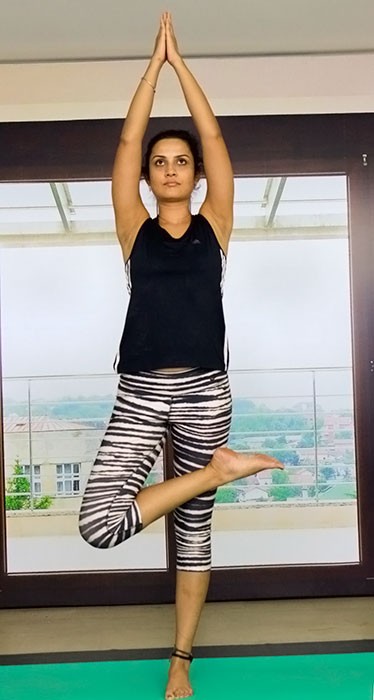 Vrikshasana
This combination of asanas tests and hones your neuromuscular coordination resulting in better balance and sharper focus. In addition, the asanas work on your lower body, leg muscles, and lower back.
What the module contains -
Suryanamaskar
Standing asanas
Intro to balancing asanas
Vrikshasana intro and correction
Natarajaasana intro and correction
Supine asanas
Abs workout, variations
Marakatasana intro and correction
Step 6: Full Body Conditioning And Release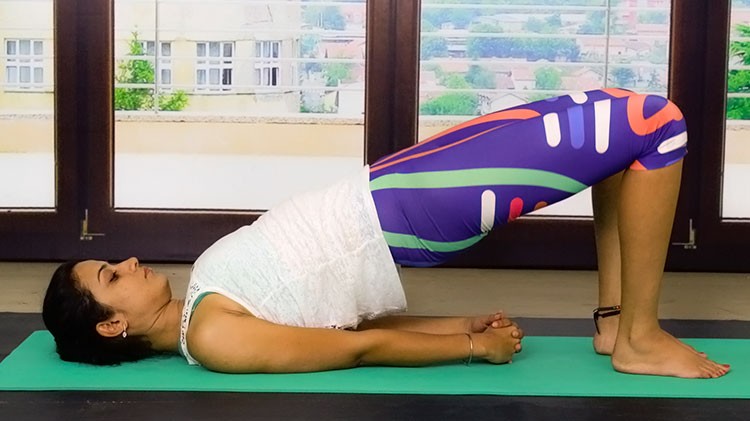 Setubandhasana
This step is slightly more difficult. It's a complete body workout that affects legs, ankles, abdomen, buttocks, and spine. It stretches muscles in the groin area, hamstrings, calves, and shoulders. The tensing of abdominal muscles increases blood circulation within the internal organs, which stimulates nerves and releases trapped gas in your intestines. It also relieves anxiety and mild depression.
What the module contains -
Suryanamaskar, 6 sets
Standing poses recap sequence
Arthachandrasana intro and correction
Garudasana intro and correction
Supine asanas
Abs workout, variations
Pawanmuktasana intro and correction
Setubandhasana intro and correction
Step 7: Core Strength And Critical Organ Function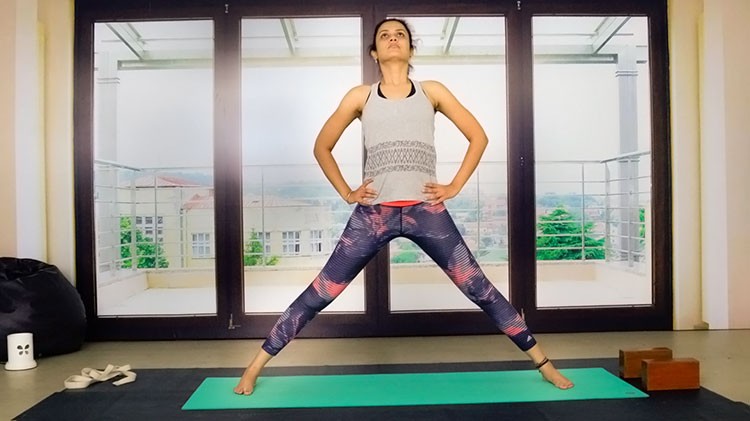 Standing asana
The last step strengthens the abdominal muscles, the legs, and the lower back. It relieves stress, improves digestion, and aids the lower abdominal organs – kidneys, thyroid, prostate, and intestines. It also stimulates reproductive organs, relieves menstrual discomfort, and also helps with kidney disorders.
What the module contains -
Suryanamaskar, 6 sets
Standing asanas
Hamstring stretch intro and correction
Wide angle intro and correction
Supine asanas
Abs workout
Navasana intro and correction
Shalabhasana intro and correction
Dhanurasana intro and correction
Standing asana The final class, as already discussed, consists of a sequence that includes all the previous classes, and by the time you are through the final class, you would be ready to take up any kind of advanced level yoga classes.
This 7-step program is spread across 14 days, with the final class being on the 15th day:
Day 1 & 2 – Warm-up exercises, and exercises for spine repair
Day 3 & 4 – Exercises for enhanced blood circulation
Day 5 & 6 – Exercises for improving balance and correcting the posture
Day 7 & 8 – Exercises for relieving anxiety and stress
Day 9 & 10 – Exercises for improved focus and balance
Day 11 & 12 – Exercises for conditioning your entire body
Day 13 & 14 – Exercises for improving core strength and functioning of the reproductive organs
Day 15 – The final sequence containing all the exercises in the course
Days 2, 4, 6, 8, 10, 12, and 14 also contain the reinforcement program that helps one perfect the poses that have been learnt.
Not just that. Following are the other great stuff you will get once you are done with the course -
Completely guided Beginner Level Yoga Instruction
A 7-step program that focuses on 7 critical focus areas
Guaranteed improvement in physical strength and energy
Guaranteed improvement in mental efficiency and focus
Total body conditioning and improved flexibility
Reduced anxiety and stress
Better sleeping patterns
Reduced fatigue and weakness
Now tell me, have you seen anything like that ever before? Something that is so structured and to-the-point?
There is but one objective to this course – to help you ease yourself into yoga and connect your mind, body, and soul. All in just 15 days. And that is done with the help of an expert – Svati Patangay.
Yes, there may be other courses out there. Provided by professionals. But there is a difference between a professional and an expert.
For those of you who want to know more about me before taking up the course...
Now With An Introductory Offer That Expires By March 31st -
40% Discount!
I don't think it can get any better than this! The actual price of the course is $49. Though that is not much when compared to what one is getting, there still is a discount.
Get the course now at an introductory offer of just $29!
But get it soon – as the offer will expire on March 31, 2017. Now, I don't think you are someone who would want to lose out on something like this.
And if...
...you are not satisfied with the course, there is something else for you...
Double Your Money Back Guarantee!
That's the guarantee I am giving.
If you aren't satisfied with the course, I am ready to give you double the money you spent in buying the course. You can claim your money within 30 days from the date of purchase, and get your money back...
On one condition, though. You must have gone through the entire course – Day 1 to Day 15. Mail to us ([email protected]) explaining what all you had learnt through the course and why you aren't satisfied. Do specify the reasons in detail. Me and a panel of experts will go through the same and get back to you in two days, explaining the procedure for the refund.
Alternately, you can also give a call to one of my assistants at +91-91605 69349, explaining why you aren't happy with the course. The matter will be looked into by me and the experts, and we will call you back in two days and explain the refund process.
And that's not all you get...
A Certificate For Completing The Course!
You had put in the time, money, and effort to take up the course and learn about yoga. And hence, you also must get a reward from it (apart from the benefits the course offers).
Your certificate will look something like this -
Now, before you think you are dreaming...
…there is something else for you...
Your Questions, Answered!
Yes, I know you still have a number of questions running through your mind. This video can answer all of them!
Your Instructor
Svati Patangay is a renowned yoga expert with over a decade of experience in the field. She graduated in Teachers' Training Course from the International Sivananda Yoga Vedanta Centre, Uttarkashi – which is a premier yoga training institute in India established in 1957.
Svati is also a certified yoga teacher from Kapila Maharshi Research and Resources. She is a prenatal yoga and Pilates instructor, and has also trained in Power Yoga. Svati is a certified Reiki Channel Level 3.
She has personally trained over 200 people, and helps prepare fitness programs based on case studies, assists students in meditating through Creative Visualization, promotes safety through proper equipment and accurate demonstration, and customizes meditation and yoga sessions according to the profile, physical, and psychological needs of the learner.
Svati is also an active participant in yoga-related activities.
Course Curriculum
Chapter 1
Available in days
days after you enroll
Chapter 2
Available in days
days after you enroll
Chapter 3
Available in days
days after you enroll
Frequently Asked Questions
What is the purpose of this yoga course?
The purpose of this course is to help you master the basics of yoga, which can eventually help you ease yourself into yoga. The course is also designed in such a way that you can connect your mind, body, and soul, and be prepared to learn any kind of advanced yoga techniques in the future.
When does the course start and finish?
The course starts now and never ends! It is a completely self-paced online course - you decide when you start and when you finish.
How long do I have access to the course?
How does lifetime access sound? After enrolling, you have unlimited access to this course for as long as you like - across any and all devices you own.
What if I am unhappy with the course?
We would never want you to be unhappy! If you are unsatisfied with your purchase, there is a double money back guarantee that you can claim within 30 days of your purchase.
What do I learn from this course?
The course teaches you the basics of yoga that include a number of yoga asanas. These asanas are explained in a structured and detailed way, such that they are easily understood. You will also learn the variations of the poses, the precautions one must take, and the benefits you can enjoy once you master these poses.